1.5 / 1 B - AH Horizontale centrifugale drijfmestpomp
1.5 / 1 B - AH Horizontale centrifugale mestpompen zijn vrijdragend, horizontaal, centrifugale mestpomp.
Horizontale centrifugale mestpompen zijn ontworpen voor het overhandigen van hogedichtheidslurries in de metallurgie, mijnbouw, kolen, energie, bouwmaterialen en andere industriële afdelingen enz.
1.5 / 1 B-AH Horizontale centrifugale mestpompen Kan in series met meerdere trappen worden geïnstalleerd.
De voering en waaier van de frameplaten voor de 1,5 / 1B-AH Horizontale centrifugale mestpomp hebben vervangbare, slijtvaste metalen voeringen of rubberen voeringen.
De asafdichtingen voor een 1,5 / 1 B - AH horizontale centrifugale drijfmestpomp kunnen worden overgenomen van pakkingbus, expellerafdichting of mechanische afdichting.
De uitlaat van de pomp kan worden geïnstalleerd met acht richtingsintervallen van 45 ° binnen 360 °
Omschrijving
| | |
| --- | --- |
| Index | Value |
| Products Name | 1.5/1 B- AH High Chrome Alloy Slurry Pump |
| Inlet Dia (mm) | 1.5 inch |
| Outlet Dia (mm) | 1 inch |
| Flow (m3/h) | 12.6-28.8 |
| Head (m) | 6 - 68 |
| Max Power(kw) | 15 |
| Material | High Chrome A05 |
| Drive Type | CV / ZVz / CRz/ DCz |
| Drive Engine | Motor or Diesel |
| Seal Type | Packing Seal , Expeller Seal, Mechanical Seal |
| MQQ | 1 set |
| Payment Term | TT , LC, or Negotiate |
| Original | ShiJiaZhuang , Hebei China |
| Supply Range | Slurry Pump , Motor , Base Plate,Guard, v-belt , Pulley |
| Weight (KG) | 91 |
| Delivery Term | By Sea, By air , By TNT, DHL , By Train |
1,5 / 1 B - AH Horizontale centrifugale drijfmestpomp Prestatieparameter s
Type

Allowable Mating Max. Power(Kw)

Clear Water Performance

Impeller

Capacity/Q m³/hr

Head/m

Speed/rpm

Max Efficiency/%

NPSH/m

Nos of Vane

Impeller Diameter/mm

1.5X1-NP-AH

15

12.6--28.8

6--68

1200--3800

40

2--4

5

152

2X1.5-NP-AH

15

32.4--72

6--58

1200--3200

45

3.5--8

5

184

3X2-NP-AH

30

39.6--86.4

12--64

1300--2700

55

4--6

5

214

4X3-NP-AH

30

86.4--198

9--52

1000--2200

71

4--6

5

245

6X4-NP-AH

60

162--360

12--56

800--1550

65

5--8

5

365

8X6-NP-AH

300

360--828

10--61

500--1140

72

2--9

5

510

10X8-NP-AH

560

612--1368

11--61

400--850

71

4--10

5

686

12X10-NP-AH

560

936--1980

7--68

300--800

82

6

5

762

14X12-NP-AH

560

1260--2772

13--63

300--600

77

3--10

5

965

16X14-NP-AH

1200

1368--3060

11--63

250--550

79

4--10

5

1067

18X16-NP-AH

1200

2520--5400

13--57

200--400

85

5--10

5

1370
Bouwtekening horizontale centrifugaalpomp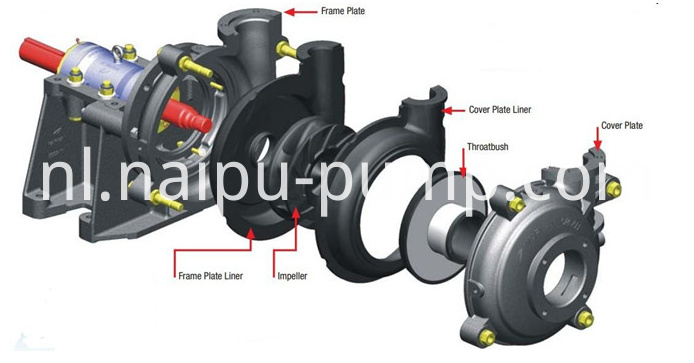 Hoofdonderdeelnummer bij de tekening

032:Frame Plate
060: Intake Joint
132:Discharge Joint
083:Throatbush
110:Volute Liner
147: Impeller

122: Stuffing Box Seal
036: Frame Plate Liner
013:Cover Plate
018:Cover Plate Liner
124: Volute Cover Seal
041: Frame Plate Liner Insert
Bouwmaterialen

LINERS

IMPELLERS

CASING

BASE

EXPELLER

EXPELLER RING

SHAFT SLEEVE

SEALS

Standard

Chrome Alloy
Natural Rubber

Chrome Alloy
Natural Rubber

SG Iron

SG Iron

Chrome Alloy
or
SG Iron

Chrome Alloy
or
SG Iron

SG Iron

Rubber
and
Nitrile

Options

Ferralium
Hastelloy C
316 SS
W151
Polyurethane
Neoprene
Butyl
Viton
Nitrile
EPDM
Hypalon

Ferralium
Hastelloy C
316 SS
W151
Polyurethane
Neoprene
Butyl
Nitrile
Hypalon

SG Iron
Various grades

MS
Fabricated
Cast Iron

NI Resist
Ferralium
Hastelloy C
Polyurethane
316 SS
W151

NI Resist
Ferralium
Hastelloy C
316 SS
Rubber
W151
Polyurethane
Neoprene
Butyl
Nitrile

EN56C
Ferralium
Hastelloy C
Titanium
316 SS
304 SS

Ceramic
Stellite
Chrome Oxide
Nordel
Neoprene
Viton
1.5 / 1 B- AH Horizontale centrifugale drijfmestpomp Afbeelding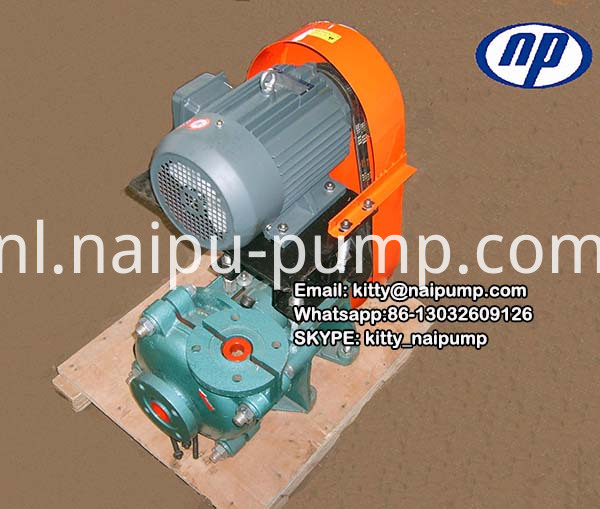 Als u vragen heeft, neem dan rechtstreeks contact met ons op. 1,5 / 1 B - AH worden geproduceerd door ShiJiaZhuang NaiPu Pump Co.,
Met hoge kwaliteit en goede uiterlijk. Welkom u kunt onze Factory.For Inqury bezoeken, stuur e-mail rechtstreeks naar ons: kitty op naipump dot com
Product Categorie : Horizontale drijfmestpomp > AH Metal horizontale drijfmestpomp